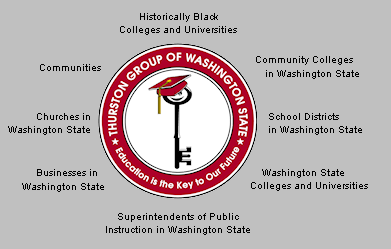 The purpose of the Reach Out Program is to:
Create a vehicle, providing opportunities for Students of Color, from the Pacific Northwest and other surrounding states to come back to the Northwest to "Student Teach" in the education field and seek employment opportunities. These opportunities will initially be available in North Thurston Public Schools and at South Puget Sound Community College. In the future other school districts and community colleges, throughout the Northwest, will become a part of the Reach Out Program.
Participating students will also be able to seek employment in other fields offered at community colleges and other Northwest employing companies and organizations.
Thurston Group of Washington State has developed eight areas of the Reach Out program. These Eight Elements of the "Reach Out Program" are as follows:

Historically Black Colleges & Universities (HBCU) – Is the key element in the Reach Out Program. The program begins with the opportunities HBCUs offer our students for higher education. The HBCUs will then continue to work with the TGWS in the development of the "Sister School Relationships." and provide qualified Student Teachers to be hired as teachers in Washington State.
Community Colleges in Washington State – Students will be able to transfer from a participating community college directly into a four year college/university as a Junior. In turn the HBCUs will supply community colleges with students who meet the college's requirement for short or long-term employment. They would also participate in a staff exchange between the HBCU and the community college.
School Districts in Washington State – This element allows students who are attending HBCUs in the field of education to return to Washington State to do their student internship and become certified teachers. It also provides an avenue for other students from these colleges/universities, wishing to do their student teaching in Washington State.
Washington State Colleges & Universities – Assist independent Washington State Colleges & Universities, who are affiliated with national religious organizations, in establishing an active "Sister School Relationship" with HBCUs of the same affiliation.
Superintendents of Public Instruction – Assist Superintendents in developing a program to ensure out-of-state Student Teachers obtain their "Washington State Teaching Certifications."
Business in Washington State – Develop a partnership with business, corporations and students to provide internships or apprenticeships, or to provide summer employment for students attending the participating college/universities. Both areas address a student's immediate and long-term need for employment and work experience.
Churches in Washington State – Those churches affiliated with the participating college/universities would provide watch-care for those students who are participating in the Reach Out Program.
Communities – "It takes a Village to Raise a Child." The success of the program weighs heavily in members of the community who are willing to provide housing, watch care, support and encouragement, and be extended family to those participating students.